because Jonas said to, here is my latest bit of technical wizardry. It in no way looks quite as ugly any more, and is nearer to your store bought extensions at this point.
and here is what the insides look like, Its a length of 1.5 inch PVC, with a series of .75 to .5 inch connectors, giving a quarter inch thick pressure chamber around a foot long. The inner piping had over 100 holes drilled to vent gases.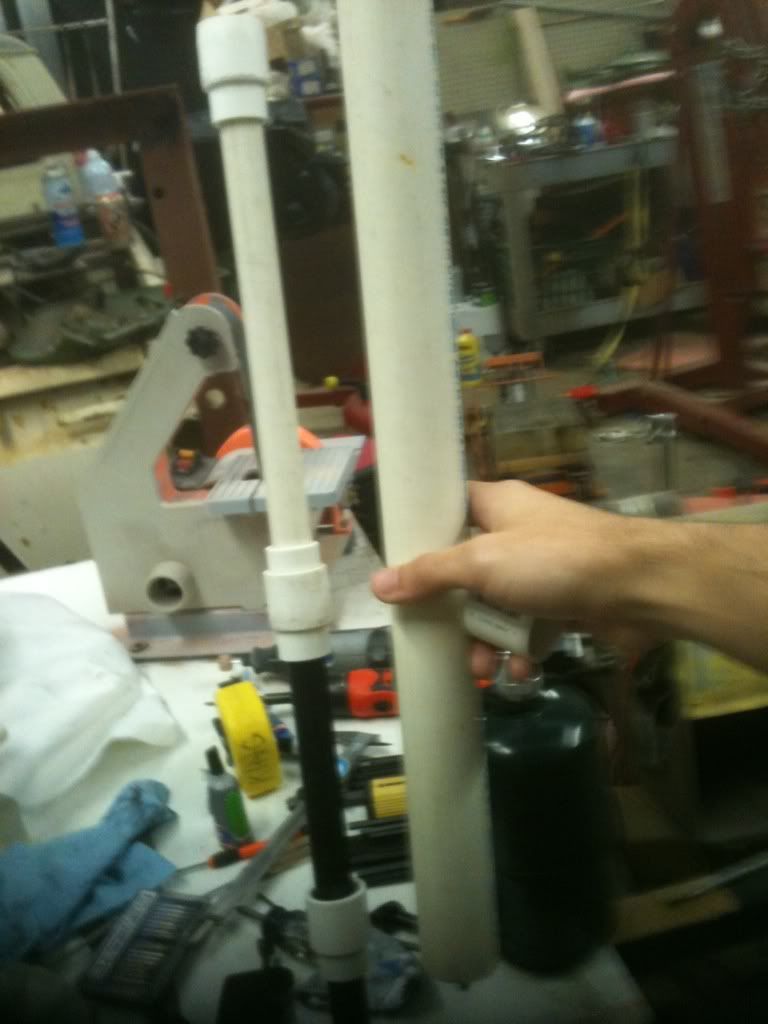 thunter124 wrote:In reality I'm fairly certain I know how it works: the burst of gas coming out of the end of the barrel would normally go into a pattern of random expansion in the air, as well as exposing the bb to wind why still have force imparting to it from the expanding gasses, producing varying forces on the BB throwing off consistency. The extensions larger inner barrel gives the gas a controlled area to expand in, and bleeding off the excess energy before it hits the open air. Basically how a muzzle break works, in that its merely redirecting the energy of the propulsion, in this case its just redirecting the extra energy into what is basically a second pressure chamber in the extension

Image showing the basic idea:
1) concentrated burst is released into main pressure chamber
2) pressure lowers over the system as the BB moves down the barrel
3) normal conditions, where gas at the end is still unexpanded and is released into the atmosphere(you can see this puff of gas during cold weather), expanding in all directions randomly(I could draw up more diagrams of how this can affect the flight path, but I dun wana)
4) with second pressure chamber, as the BB escapes the barrel and the gas is released into the now enclosed space, which reduces the randomness of the expansion, and vents pressure into the outer chamber
5) the pressure over the whole system begins to theoretically near atmospheric, and the BB begins to speed past the pressure wave
6) given a long enough pressure chamber, the BB has theoretically outrun all of the expanding gasses, leaving it only its kinetic energy as it leaves at the end, and reducing the amount of forces acting on the projectile at the end, serving to increase precision.
NOW, what I built won't work for every rifle, I was fortunate that the tanaka barrel was 1/2 inch diameter, so I was able to use standard pipe fittings with minor adjustments made for proper fitting. But the theory could still be applied to other gas weapons, given a large enough second pressure chamber. I would say, this is mainly in application to gas weapons, because of the expansive property of the propellent, but it may could work in the same fashion for a spring sniper with a serious amount of over pressure, or anything that produces an excessive amount of air.
At the moment I would say its only a theory, based off of the fact that my tanaka shot strait and true after I put the thing on. But the to me it looks to be sound, feel free to say if you don't agree or whatever :B