This is my review for th AirsoftGI CQB SD.(
http://www.airsoftgi.com/product_info.php?cPath=139_70&products_id=2515
Price: $195
JG M4 CQB Based w/ Echo1 M4 SD Kit installed
Arrival: the package was delivered to our door Dec 21, my birthday, exactly when we expected it. The box included a bag of BBs i had added to the order and a box labeled "JG M4 CQB", marked out and CQB SD written over it.
The gun was apparently repacked in its original packing judging by the Styrofoam that was broken to make room for its front end.
Included was some manuals. One for a "W4-1 Carbine" and a supplement instruction manual, neither are specifically for this gun, but thats what you'd expect from Echo1/JG.
The Gun: the gun is well-balanced and has a good matte-black finish. It does have a couple of drawbacks, tho. First the batteries and cords have a real tight fit. Id suggest not trying to pull the batteries out when you need to charge them, leave them in the gun and just hook the entire gun to the charger, this way you arn't tugging and pulling on the cords often.
(edit:the battery, which isn't the best to begin with, finally died completely so im looking around and it seems the best battery to replace it is this
http://www.airsoftgi.com/product_info.php?cPath=27_47&products_id=3750
, cant guarantee it as i dont own it)
Second, the silencer scrapes when you screw it on, but thats no biggie.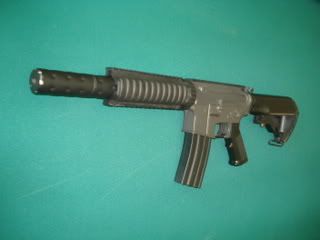 The gun is well suited for Cqb, being 31" with the stock fully extended, and 28" with the stock collapsed.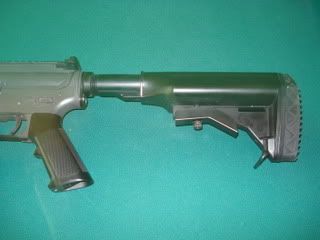 Internals: On par with JG. The only thing that needs mentioning here is the inner barrel is not normal length. its 250mm, so a P90/Thompson-size tightbore barrel is your best choice at 247mm.
Performance: These stats may seem a little low, since i have no sights for the gun, but i tried it and at ~50ft got 5" groupings, not too bad. My gun chronos at a respectable 355 fps, too. The gun has been with me for 8 months now, so i would say its a pretty durable and well built gun.
Conclusion: This is a very good buy, its highly upgradeable, but is fine stock. Its very durable and reliable and only takes average maintenance. If you want an AEG thats a little unique, and highly functional, this is an excellent choice.
Notes: The fore grip rails are a little thinner than usual so some accessories may wobble. Also the silencer seems to be 35mm in diameter so it should accept other 35mm or thinner silencers.
I guess a Cyma G18c review will come later.