Today I will be reviewing the G&G M14 with the walnut stock.
0) Pre-Review Details:
I Purchased this gun June 4th of last year from ASGI for $355. Since then I have used it every other week putting quite a few thousand rounds through it. As of now the only modification that has been done is re-wiring the gun and battery to Deans Connectors. While this may seem trivial it does indeed make quite a bit of a difference in the ROF and trigger response time. Also this review will be done from standalone point of view, thus I will not be comparing the gun to another, rather just commentating on the gun Itself.
1) Externals:
First and foremost this is a beautiful gun.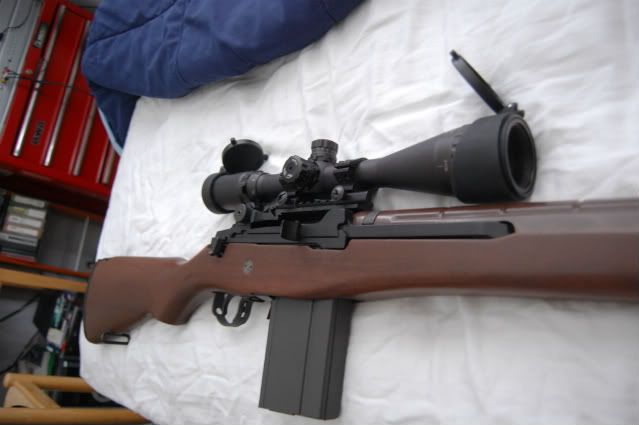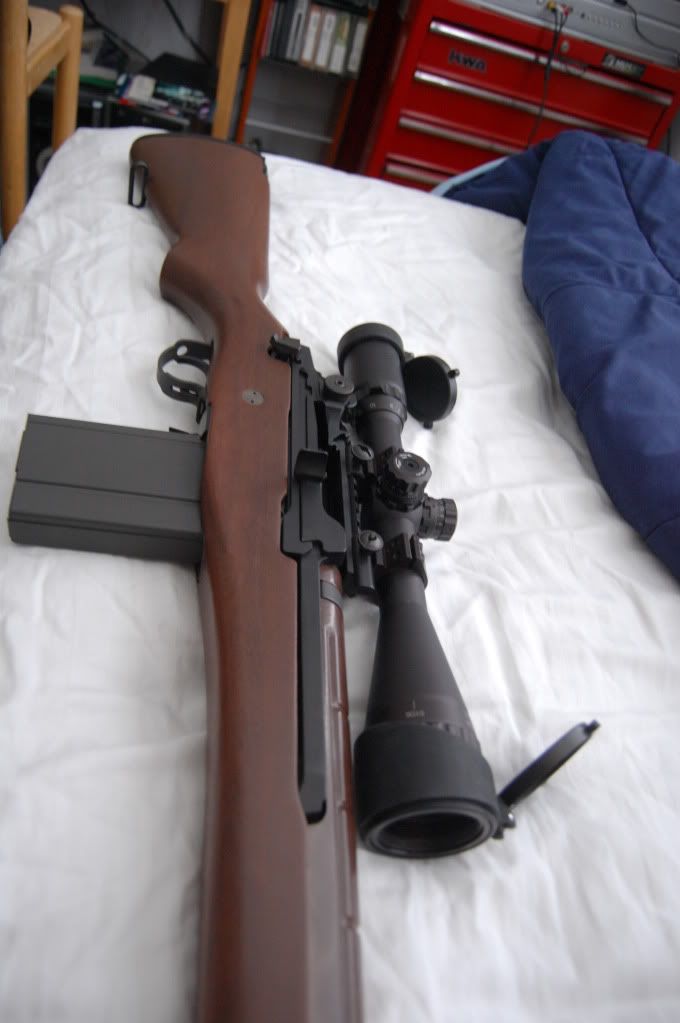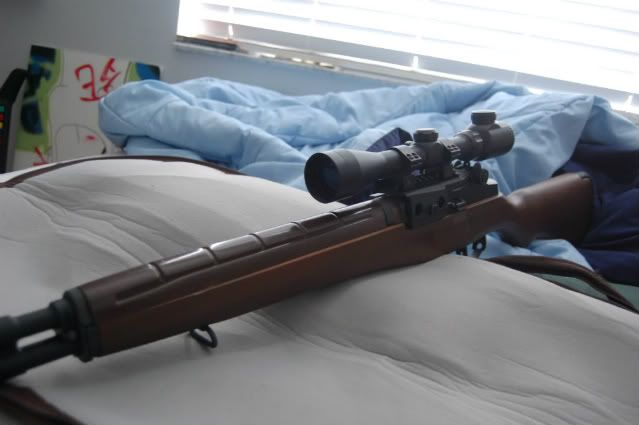 That being said, it is by no means perfect. As stated this gun has a full wood stock which adds considerable weight that the polymer version would not have. Without a mag or scope it easily weighs more than 10lbs and feels heavy despite the weight being spread around fairly well. In addition, due to the stock being made of wood it can be damaged much easier than one made of polymer. As of now I have a single crack from the gun falling due to a sling failure, and a few indents from BB's coming into contact. Now this does not mean the gun is weak by any standards. It is very well made and solid gun with some extra goodies. The gun does come with adjustable iron sights and a working bolt catch, but unlike its Polymer version it does not have a huge battery compartment. As of now the largest I could fit was a large 8.4v, though you can shave away some of the wood to accommodate larger batteries. On the other hand doing so might compromise the stock.
2) Performance:
This is where I believe the gun truly shines. As mentioned previously the only modification I have done to the gun is switching the connectors to Deans. Now then if your looking for a gun that puts a BB down the same path every single time look no farther. This gun is incredibly accurate, and is capable of hitting a body at every bit of its range. As of now I had the gun crono at 298 FPS with G&G .25g BB's which means approximately 340 FPS with .2's. Measured inside a warehouse to eliminate any external factors, the maximum distance I was able to achieve with .25g BB's was 225ft, though your really stretching it at that last 25ft. The ROF and trigger response time I believe to be quite good, despite whisperings of G&G's having faulty wiring. In Semi-Auto on a 9.6v the gun will shoot every bit as fast as you can pull the trigger, and on Full-Auto I was getting 20rps on a 1/2 charged 9.6v and 27 RPS on a 11.1v 2200mah 30c Lipo (measured using audio recording and Audacity). Overall, very accurate with great range out of a stock gun, and good trigger response & ROF.
3) Internals:
Now this may seem odd for a Review but I'm not going to talk all that much about the internals. Mainly due to the fact that I'm not someone who works on guns all that much, thus wouldn't know of the overall quality. Instead I will look at the internals from an average player. The simple fact that I have never had to open this gun once, for any reason over the period of nearly a year of constant use means quite a bit to me. I will however cover a few basic things. The gun comes with a G&G 6.04 TBB and drum style Metal Hop-up. Both are probably a huge factor for the guns accuracy. The hop up is a little finicky, but when you get it set it holds it for a long time.
4) Accessories & More:
When I purchased the gun I also got a extra high cap, and scope mount. The Mags themselves I find to be of very high quality, and are Full Metal. You will find no Plastic here. They hold approximately 500 or so rounds, and oddly enough don't rattle all that much. The scope-mount is full metal and is held in place by a metal screw. When tightened down it is rock solid with the gun, and doesn't bulge a bit even with a fairly large scope attached.
5) Qualms:
Now there are a few things I have to mention about the gun that really don't fit anywhere else. First and foremost mags are proprietary. Standard TM mags will not work, though some have mentioned CA mags may. Only problem with that is that both G&G and CA mags are about the same price. So Just get the G&G mags. In addition, mags for this gun are EXPENSIVE, and madcaps are also hard to find. If you do indeed find them its $140 for five. Finally, this gun can not take some forms of slings, if it clamps it will not work.
6) Conclusion:
Overall I consider this one of my best buys. There is nothing like the feeling of knowing that you can reach them, but not the other way around. Externally the gun is very solid, though the wood does create some problems. On the other hand it is one of the best looking, and feeling guns I have ever held. My only real complaints is the fact that mags for this gun are proprietary and expensive. Everything else can be overlooked, though some may not.