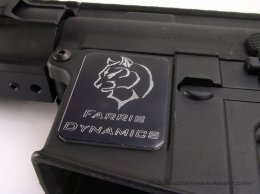 Here's my review of the custom engraved plates available through Clandestine Airsoft.



The pics with the white background are from Clandestine Airsoft, and are provided as examples so that you can have an idea of what to expect. To see mine, please check out the video.
I was a "Level III" beta tester, meaning that I had to talk to Clandestine's artist, Zach, to finalize my design and get it in the correct format. It was a painless process that yielded a really nice product. It attaches via an adhesive on the back, and seems to stick onto my Combat Machine polymer body firmly.
If I had to rate this product and its related process, I'd give it 4.5 out of 5 stars. I'd definitely recommend this product.
Here's my video review.