**CLICK IMAGES TO ENLARGE**
Recently I picked up a complete A&K SR-25 gearbox from Evike for $50. I got it to replace my annoyingly off-spec third party SR-25 gearbox shell as well as get some obscure replacement SR-25 parts if I ever need them.
Today I'll be giving an in-depth overview of the gearbox components of the 2013/2014 A&K SR-25 gearbox and make some comparisons to my older 2010/2011 SR-25 gearbox parts. Enjoy!
Outside the Gearbox
The gearbox shell is nothing special. It differs from other SR-25 brand gearboxes as it doesn't have much reinforcement on the front. It's fitted with 6mm steel bushings and lacks any rounding on the cylinder windows. You'll also find some pretty standard 18awg wiring. A nice improvement they've made is the metal safety switch.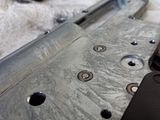 6mm steel bushings
It's highly recommended you round cylinder corners to prevent cracking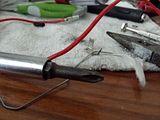 18awg wiring
Metal safety switch
Inside the Gearbox
Inside the gearbox, I found many high quality components as well some changes they've made in the last few years. As usual, the shimming and greasing were downright atrocious and should be professionally redone.
The Drivetrain Components
Unlike many gearboxes I've worked on, the anti-reversal latch and trigger stay in place with no problem which is a blessing.
The gears are standard gears except for the sector gear which has more teeth to accommodate the elongated piston. The gears are a fairly strong, well made set that should be able to take quite a beating. One change I noticed when comparing them to my older set of A&K SR-25 gears is that the gears' shafts are approximately 0.5mm shorter on the new set. The bushings they sit on are 6mm steel bushings that sit surprisingly flush the the gearbox shell which slightly eases the shimming process. The anti-reversal latch is a standard design and is slightly more reinforced than its predecessor.
ARL stays in place!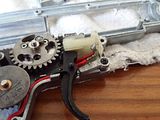 The trigger also stays in place!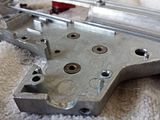 Bushings almost sit flush to the gearbox shell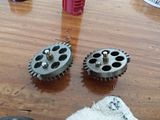 No significant changes in gear design. Notice the sector gear's many, many teeth
The Upper Assembly Components
The first thing you'll notice is the nice inclusion of a full steel ball bearing spring guide. The spring is also surprisingly long for a Chinese gearbox and is about an M120.
Very nice spring guide
Top: SHS piston
Middle: A&K spring
Bottom: SHS M150 spring
The piston is a 19 tooth elongated design and is made of standard nylon. The new red color looks cool, but it's the same quality as the old white plastic. The second tooth is removed which is nice for helping correct the AoE. Something I found a little troubling about the piston was the spacing between the release tooth and the plastic teeth is slightly too large which will lead to unwanted wear. This time around, the piston does not come swiss cheesed from the factory. Attached to the piston is a ported nylon piston head that is simply screwed in with no weights or bearings of any sort. The angle of engagement is pretty normal for a stock gearbox so it's suggested you install sorbo to correct it.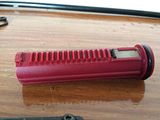 Nylon piston with second tooth removed
Messed up teeth spacing
Ported nylon piston head
Moving on to the air seal components, I found some pretty interesting things. The cylinder is a chrome, non-ported, elongated design. Interestingly, the new cylinder has an even larger bore than the already "bore-up" size older model cylinder. While the increased volume is probably negligible, it's great that you have even more air to push down the barrel. The cylinder head and nozzle, on the other hand, are a different story. The older model's cylinder head and nozzle had a near perfect seal with each other which was great for a stock gun. Now, however, the cylinder head and nozzle's seal is mediocre at best. These parts, however, are also "bore-up" size so if you change out one part, you must change out the other because standard sized parts will not fit well. On top of this, the nozzle's molding was pretty rough. The tappet plate is also made of nylon and is a proprietary elongated design. Overall the air seal is decent and doing some basic mods will help it significantly.
Pretty identical
New (left) vs Old (right). Notice how the new cylinder has a slightly thinner wall than the already "bore-up" sized old cylinder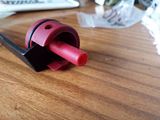 Cylinder head and nozzle. A bit of a disappointment...
Nozzle's poor molding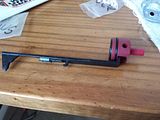 Proprietary tappet plate
Parts Compatibility
The question about what parts can be used with the elongated gearbox designs of the A&K, Classic Army, and G&P gearbox get asked a lot. So just to clear things up...
Spring guide: V2
Piston: 19 tooth design (18 teeth if second tooth is already removed)
Cylinder head: V2
Nozzle:
most
nozzles ~24.5mm in length. I've found G36, AUG, and Classic Army M14 nozzles work fine.
Tappet plate: proprietary to SR-25
Gears: bevel and spur are standard 18:1, sector must be a 19 tooth design
ARL: V2
Trigger switch: V2
Motor: long type
Safety: V2
Mags: G&P fits, Classic Army and G&G
may or may not
fit
Only Classic Army and G&P use the same gearbox design as A&K. Echo1, JG, G&G, ARES, etc parts will probably not work. Buy at your own risk.
Tags: airsoft aeg a&k a k sr 25 gear box overview review parts compatible part g&p ca classic army g&g gr 25 m110 mk11 mk 11 knight kac sniper dmr rifle range magazine mag upgrade